The UK government declared a climate emergency in 2019. Since then, more than a hundred countries have formed an alliance aiming for net zero emissions by the year 2050.¹
That's less than 30 years to turn around our current global emissions of approximately 33.1 billion metric tons.
To put that in perspective, if you filled a box with just one single metric ton of CO2 (carbon dioxide), that box would need to be 8.23 meters squared.² An average 2 story house is 6.1 meters high.
And with a world population of 7.8 billion at the time of writing, that's the equivalent of each and every person on this planet filling more than 4 houses with CO2 every year.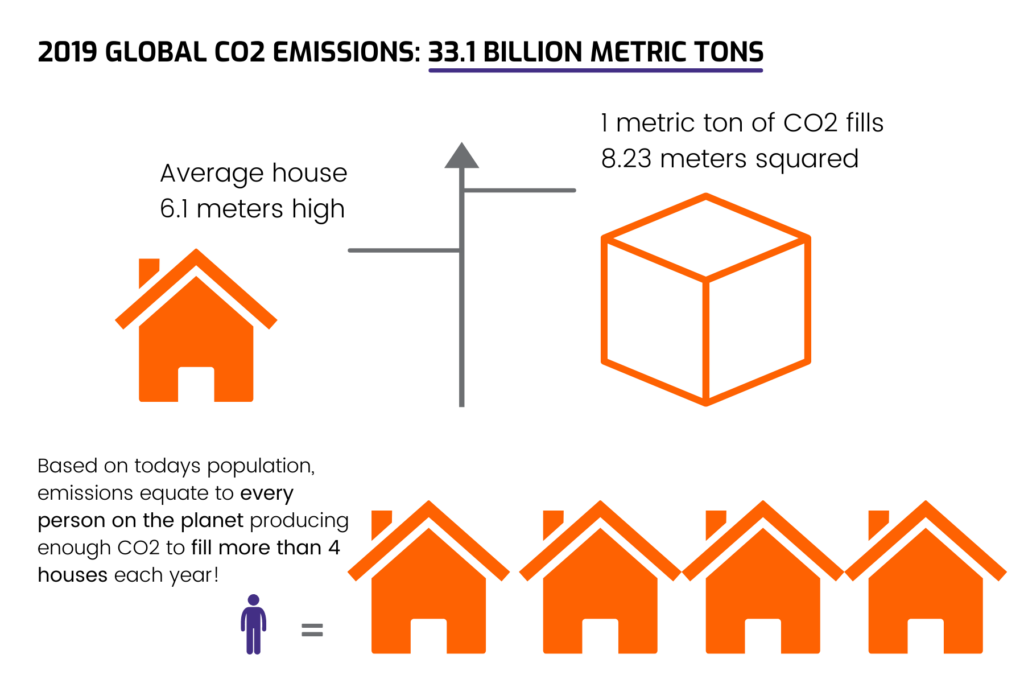 One of the initiatives already being taken up by many clubs is building or modernising stadiums to be powered by renewable energy.
Clubs and sport organisations are proactively looking into green energy options. Recently built stadiums are being designed with sustainability in mind, like the Chase Center in San Francisco. Home to the NBA Golden State Warriors, built with recycled materials it is designed to harness its surrounding environment to reduce energy directed toward cooling.
Arsenal grounds, the Emirates Stadium, is able to operate entirely on renewable energy with 154 solar panels fitted.
And even earlier built stadiums like the Johan Cruyff ArenA, in Amsterdam, built in the mid 90's, was modernised in 2018, installing a staggering 4200 solar panels and its own wind turbine.
Impressively, the Johan Cruyff ArenA also plays host to an energy-generating escalator, which harnesses and stores energy when used, and an energy storage system powered by second-life batteries from used electric vehicles.
The Storage Building system, made from used Nissan LEAF batteries, provides backup power for the stadium and when needed, it also distributes energy to the surrounding community.
Fans can also use the 15 onsite bidirectional electric car charging stations to directly contribute to powering the stadium on event days.
All of these renewable energy solutions has unsurprisingly made the Johan Cruyff ArenA Europe's largest commercial energy storage site, with the capacity to power up to 7,000 households in the surrounding neighbourhoods for up to an hour.
With electric cars becoming more desirable, it's no wonder that they could soon be lighting up a further six European football stadiums. Again, re-using batteries from Nissan Leaf vehicles, US firm Eaton are said to be in talks with a number of as-yet unnamed venues.
And we at TMA are certain that the next few years will see further initiatives to harness renewable energy at stadiums and encourage green travel to the game. We are working on a project that connects sustainability with sports, education, and the local community. A concept that helps students, educators, and business work together in a purposeful way.
Research by Nottingham Trent University shows that UK CO2 emissions will be cut by nearly 12% if the country exclusively uses electric cars in future.
That equates to removing 42 million metric tons of CO2 from the atmosphere, or going by our earlier comparison, it reduces the UK populations carbon emissions per person by more than half a house full.
And if anyone would like to share how many stadiums that fills, please do let me know!
If you would like to know more about our project, then get in touch at [email protected]
–
Reference sources:
1. NAZCA: Climate Ambition Alliance: Net Zero 2050
2. TeachShare: What does a tonne of CO2 look like?